Need the perfect gift for someone who loves yoga? Shop below for some of the most popular Yoga products online. As a yogi myself, this is my Top Ten list off all the products I can't live without or really want under the tree this Christmas. I've provided an 'Owner's Tip' for those items that I do personally own that made the list! Choose from this practical Yoga Gift List for the yogi in your life; from yoga fashion for the mat and Main Street, the newest yoga props and decor ideas including Yoga pose candle holers, wellness products and fair trade products too! ~Namaste~
Imitating the seven primary energy centers of the body (that are aligned along the spine), this column of color and sound reflects the ancient Eastern philosophy of Chakra. Thought of as "windows to the soul," each chakra has its own color and is associated with a particular virtue: stability, balance, energy, compassion, communication, intuition and receiving. Plus, check out sale items: 25%-55% off at UncommonGoods: the sale collection
Owner's Tip: I hung this chime in my kitchen above the sink. The stones are not as  brightly colored as shown in the product's image but they still resemble the 7 colors and sound beautiful.

9.) Cork Yoga Block from Gaiam | $14.98
Great texture, comfortable and pliable, these bricks are now wider for optimal grip and traction. They are made from all-natural materials. Portugal.
Owner's Tip: We all know the blue or purple blocks we see at gyms and studios – and yes, they absolutely do the trick. But a yogi will love his or her own block. The support a block provides the body on the mat or in poses is personal. Just like a yoga mat, the yoga block is an extension of personal belongings we need to practice yoga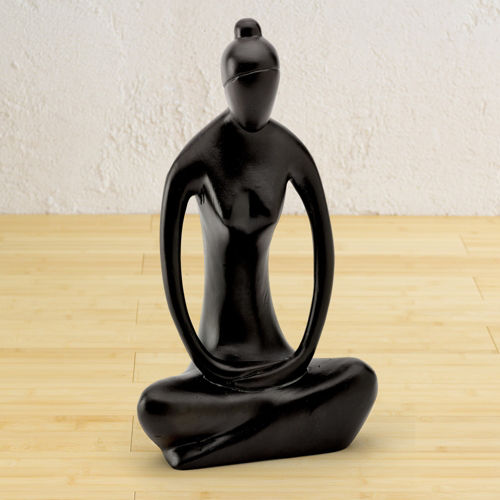 8.) Serenity Sculpture from Gaiam | $48.00 ***Fair Trade***
This hand-crafted sculpture serves as a gentle reminder to find inner peace and balance throughout the day. Carved of sustainably-harvested jackfruit wood and hand-polished by local artisans, it complements any meditation or relaxation room. 8″H x 5½"W x 3½"D. Vietnam.
Owner's Tip: This is actually bigger than I thought it would be. It's also hand carved so the sculpture appears shiny but it's very natural and dull in real life. It's gorgeous and earthy. I place a candle in front of it and place it on a book shelf. She's just beautiful.
7.) Hard Tail Rollover Wide Leg Yoga Pants | $68.00
The Wide Leg Rollover Pant might be the most figure flattering pant you can wear – combining a rollover waistband, that shows only the right curves in the right spots, and the wide leg fit which is roomy and so comfortable.
90% Cotton, 10% Spandex
6.) A Jade Yoga Original Professional Mat | $72.00
A Jade Yoga bestselling premium mat. 3/16″" thick. A perfect balance of traction and cushion. 24″" x 68″"All Natural Rubber.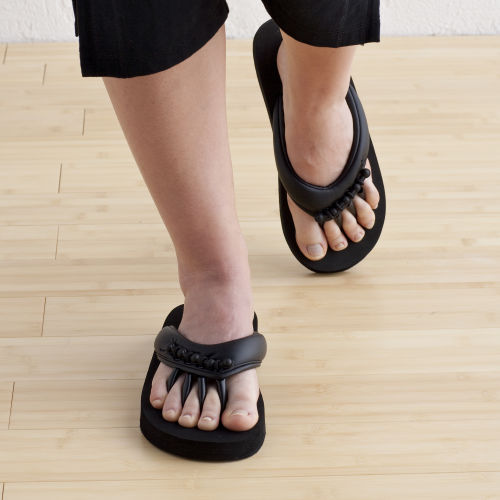 5.) Yoga Sandals | $32.00
Each elastic toe separator fits between your toes, stretching and flexing as needed for maximum comfort and benefit. Yoga sandals help you to improve your alignment and increase stability and balance by spreading your toes while supporting your heels properly.
4.)
Tech Stretch Hoodie from Athleta | $74.99
If you're a hoodie lover at heart, this Tech Stretch Hoodie will quickly become your new 'mat to Main Street'  uniform.  Semi-fitted. Full contrast zip at front, dyed to match zip on black, Inset waistband for contour, shirring at front chest, Body length in size medium: 25.5"
3.) Zafu Meditation Pillow

  | See site for details.
This durable pillow will help any yogi of any skill level to elongate their spine in seated poses. As one delves deeper into meditation, for example, the need for a pillow to assist in long periods of silence is needed. In general, when seated on the floor from practicing yoga to doing your favorite craft, the spine appreciates a little lift!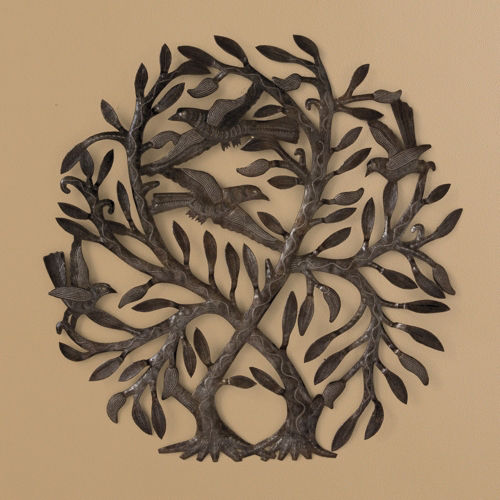 2.) Double Tree of Life Wall Sculpture | $99.00 ***Fair Trade***
Haitian artisans take clean 55-gallon oil drums and flatten them into a "canvas," draw a pattern in chalk and then hand chisel and hammer the metal into these intricate sculptures. Each Double Tree of Life Wall Sculpture is created entirely by hand — with no electricity used — and signed by the artist. Lacquer-finished for indoor or outdoor use. Haiti.
1.) Heart Rate Monitor | Prices vary
Owner's Tip: A heart rate monitor is great for anyone who is interested in really tapping into their body and its physiological responses to movement. You can wear this during yoga or any physical activity to learn more about your body in its physical state. Read more
Please note prices may change.